I had opportunity to photograph 2018 Black Bear Rally in Cavendish, Ontario. For spectaror's Rally is interesting and very exciting form of motor sports, and it has its own special rules. I will get into them shortly, but not into a detail that will bore the daylights out of you. There are different levels in Rally, Provincial, National and World series are raced and capacities and capabilities of the cars vary accordingly. In a World class rally, you will see 600+ horsepower cars with 4 wheel drive, 0-60 in 1.9 seconds, and in Provincial races it will be your 10 year old daily driver. Both cars are equipped with safety cages, fire extinguisher and 5 point seat belts.
Rally usually consists of Transport stages and Special Stages. Transport stages are public roads, where traffic laws are obeyed. Drivers may be given a scheduled time to arrive at their destination to ensure that they do not speed. There are penalties for arriving too soon and too late, however margin for late arrival is quite large. The roads on which special stages are held vary greatly from rally to rally. From mountain passes in British Columbia, to forest tracks in Ontario, as well as variety of surfaces, paves, dirt and ice/snow covered roads are used in all levels of rally.
Typically each car will be given a specific start time at five minute intervals. Usually an official and the co-driver will provide ten-second countdown, and timing starts from the scheduled time, not from when it passes start point. At the end of the stage, there are two sets of markers. The first is referred as the "flying finish", and it is at this point where timing ends. The name comes from a fact that the car will be travelling at full racing speeds when it passes this post. Several hundred meters further, there is a stop control point, where car must come to a halt in order for the officials to record time and check paperwork.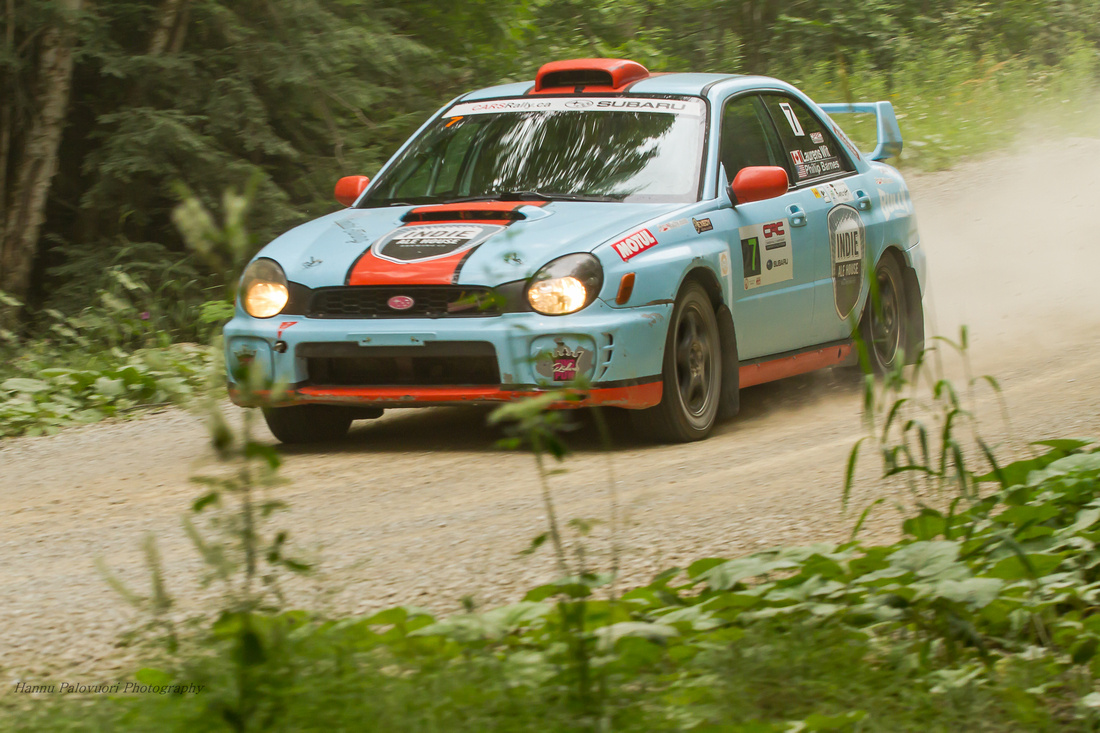 Pacenotes and reconnaissance
The pacenotes provide a detailed description of the course and allow the driver to predict conditions ahead and prepare for various course conditions such as turns and jumps.
In many rallies, drivers are allowed to run on the stages of the course before the competition and create their own pacenotes. During this reconnaissance, the co-driver writes down in shorthand notes on how to best drive the stage. Usually the driver calls out the turns and road conditions for the co-driver to write down. Other rallies provide organizer- created "route notes" and disallow recce and use of pacenotes.
000, 00, 0, 99 cars and sweepers
When you are watching the rally on the stage you will see the first vehicle drive though, with "000" number on it. This is first of the safety cars, ensuring that all spectators are in safe locations and all off roads from the stage are roped off, and all safety aspects are as they should. Shortly after you will see "00" vehicle. It's primary responsibility is to ensure marshals are prepared and spectator safety. These first two vehicles should be 4x4 vehicles equipped with flashing lights in order to respond to all possibilities. Next you will hear a siren approaching, and that will be "0" car. Besides lights, siren and PA system, it should be a race prepared vehicle, travelling about 70% of the actual race speed. The next car you will see is the first competitor. When you hear a siren again, you will see car marked with number "99". This is a safety marshal, last car to check the stage after last competitor. This vehicle is followed by one or two "Sweepers". Their duty is to co-ordinate recovery of competitors who have gone off road, or experienced mechanical problems.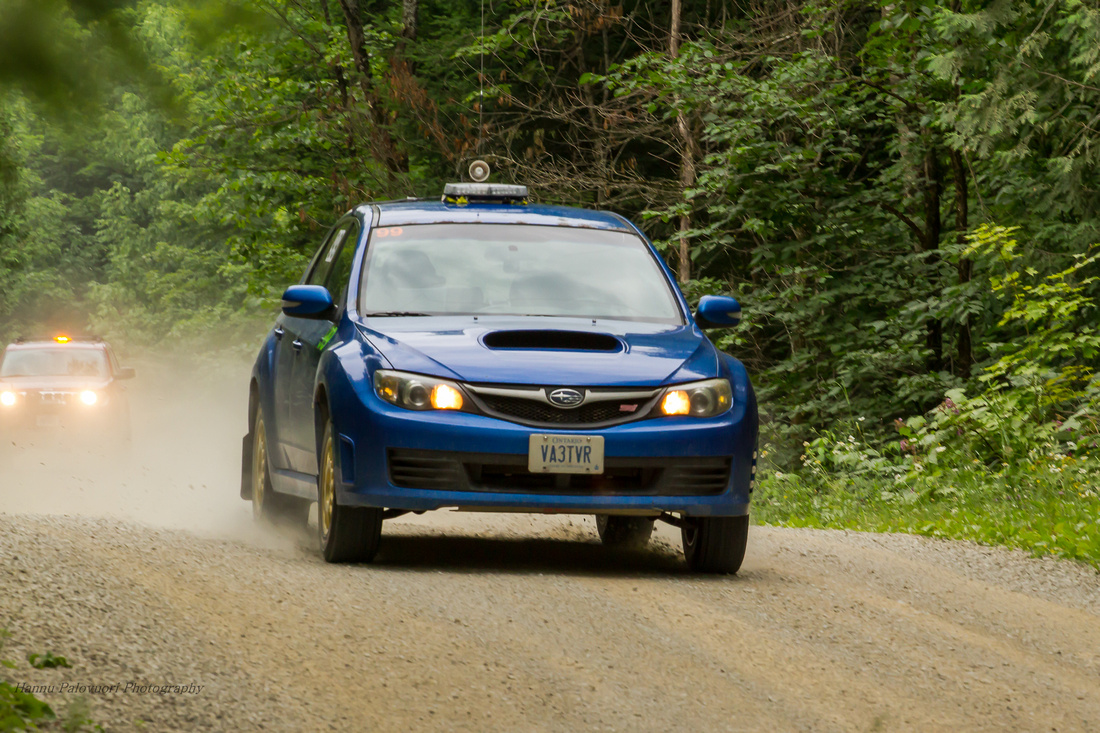 The Black Bear Rally
The Black Bear Rally is the 3rd event of the Eastern Canadian Rally Championship as well as the 3rd event of the OPRC., organized by The Maple Leaf Rally Club. It was run in Catchacoma, Ontario on July 14, 2018.
The Results
2 Wheel Drive - Class
1) Patrick Cyr and David Cyr; 2013 Toyota
2) Gary Sutherland and Bruce Leonard; 2000 Ford Focus
3) Zoltan Kovacs and David Koiter; 1995 Dodge Neon
Overall Champions
1) Sebastien Clark and Yanick Marin; 200 Subaru Impreza STi
2) Laurens Wit and Philip Barnes; 2002 Subaru WRX
3) Patrick Cyr and David Cyr; 2013 Toyota
Sources
CARS - Canadian Association of Rally Sport- https://carsrally.ca
British Rally Association - https://www.msabrc.com