The Canadian International Car Show is just about to open its doors in Toronto, and even though the car show season is still few months away, I thought this could be a perfect time to share some thoughts on how to take pictures in a car show. I am not going to get too technical, that would just take all the fun out of it. I just going to give you some hints, that may help you in taking those perfect shots.
Most importantly you will need time and PATIENCE. Time, so you can check out the venue, find the cars you want to photograph, and how is everything located. You want to know best view points where from take your pictures, so they do not appear cluttered. Patience is very important, because you will have to wait for people to get out of the way, which at times is not easy. You also need to know your camera, so night before the show, grab that dreaded manual, and read up on it!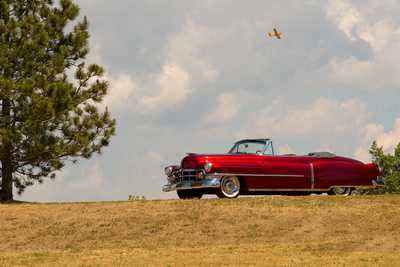 CadillacTaken with 200 mm telephoto to isolate crowds and other vehicles at Wheels on the Bay
Every show is different, and let's start with indoor show - like the up coming CIAS. I have to tell you, the light is going to be horrible! Your eyes will see perfectly, every car beautifully lighted, looking its best. Then you go take the picture and it has this awful green coloured cast all over. So what went wrong? Actually, nothing went wrong. Your eyes are magnificent pieces of machinery, which take different colours of light and turn it into daylight, correcting colours as you go along. The White Balance setting in your camera is not really that smart. When you get to the venue, take a picture, (of anything or nothing) and look at it. If your camera is set at auto white balance, it should (uh-huh!) work. if not, try all of the settings until you find a best one. If your camera does not let you change white balance, or none of the settings are perfect, then we are left with post process. There are number of free photography programs that you can download from the internet, which allow you to manipulate the white balance.
Then you have to figure out when is a best time to go, in order to avoid crowds. Usually early as the show opens, on a weekday - chances are that smallest number of people will be there. Near closing time is good as well, but you have to be quick, and find the cars fast.
It also helps to walk around the vehicle, and check out all the angles. Maybe the best view is the one with no one around. Try crouching down, maybe go down on your knee, just to change your point of view. Cars really should not be photographed standing up right next to it.
Outdoor shows
No two alike, venues and the duration of the shows play a large part in this!
One day / evening shows, like the one at the burger joint or a hardware store parking lot have their own challenges. Crowd will be there, cars are parked close to each other, and they will arrive at various times. It will be tough to get a the perfect shot with out having other cars or people in your view. Try something different, perhaps take a close up of the hood ornament, or any other interesting detail on the car. Take a picture facing the car head on, just the front end. Again walk around the car - if you are allowed to do that, just to see different view of it. Don't be afraid to get on your knees, or even prone on your belly ( ask my wife how often I am lying on the ground!). This will give you an interesting perspective, and people don't really find you strange - as long as you have a camera on your hand!
If the show is two or more days in duration, it will make things a bit easier. First day you just enjoy the show, find cars and places where to shoot them from. On the following day, get in as the show opens and shoot to heart's content. These multi-day shows are also hosted in a public parks or on a private property, with lot of space. There usually are several hundred cars on display, but it is easier to find good vantage point. And yes, if you have dslr, please do bring your telephoto lens - it will come handy.
Lead SleadTaken in a rain - No crowds!

What if it is raining? At least the crowd will not be there! There are many different types of rain pouches you can buy for your camera. (not to worry if yours is designed to be used in water!). They vary wildly in price and the way they have been constructed. Rubber band and a plastic shopping bag will work just as well too! Make a hole, just big enough that your lens will fit through it, secure it with the rubber band right at the edge of the lens and your camera is covered. In the rain you may want to rethink going prone or to your knees in the wet ground, unless you are like me. Mud will never stop me for getting that perfect shot! And people do get out of your way, when they think that you are slightly mad!
On the other side of coin..if it is hot remember you will need lots of water to drink. It does not help at all if you end up getting sun stroke. If you can use a filter on your lens, polarizing filter is great to have with you. Travel tripod (light weight i.e. carbon fiber/aluminum) will come handy too, especially later in the evening or early in the morning and especially with that heavy telephoto lens!
My favourite shows are June 03-04 2017 Fleetwood Country Cruize In in London, Ontario; July 21-23 2017 Wheels on the Bay in Belleville, Ontario; August 19-20 2017 Mopar Fest in New Hamburg, Ontario. And the most important show of the year: Septemper 16-17 2017 Cobble Peach Concours d"Elegance in Kemble, Ontario.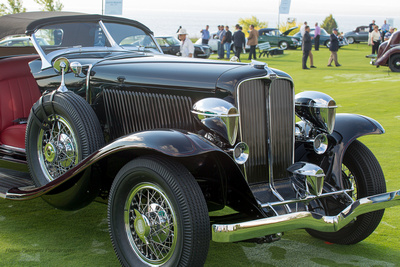 Concours d'EleganceSelective depth of field makes busy background less important

I sincerely hope you will make time to some (or all) of these shows this coming summer/fall. If there is one thing I can guarantee - you will not be disappointed!