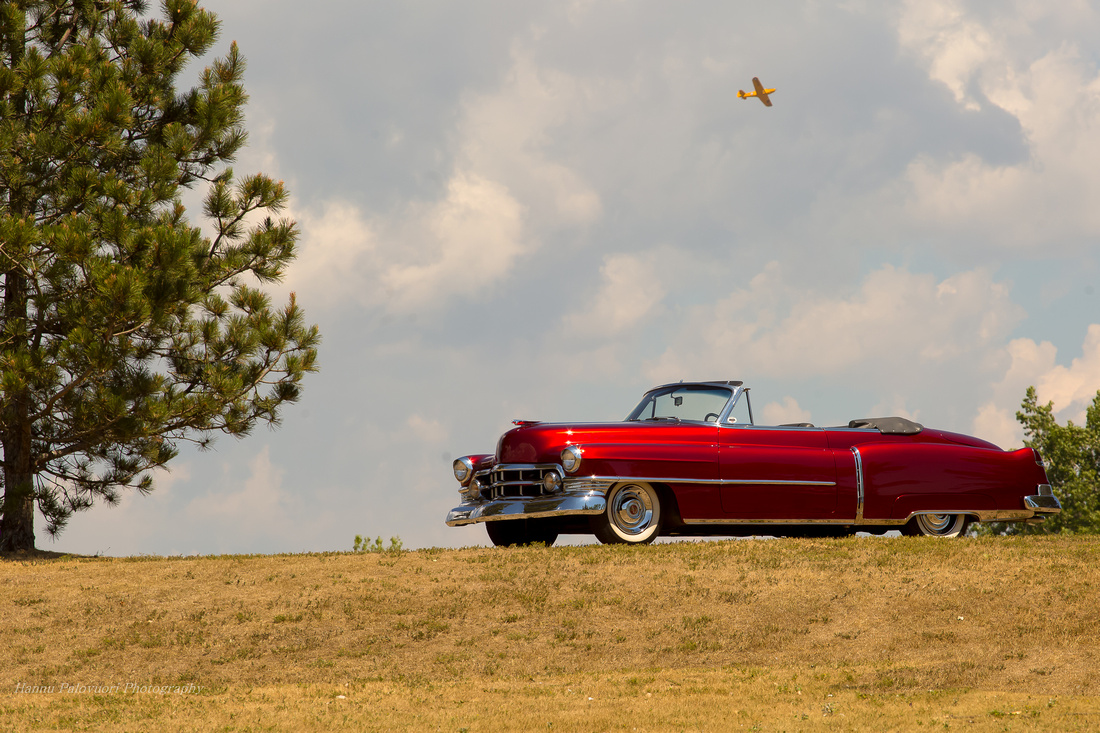 Car shows and summer really go well together. There are more shows going on than a mere mortal can attend. Every week on different nights you have local shows in the evenings. Local car owners bring their cars for the public to see, and the owners spend the time talking to friends. These are wonderful evenings of enjoyment. You do have to be a mechanic or a car aficionado to enjoy many types of cars on display. To appreciate work that has gone into rebuilding and remodeling is easy to see, modifications and wild paint schemes speak for themselves! Also when you see vehicle from 1930's and so on, looking like it just came out of the factory floor, you know someone has put a lot of blood sweat and tears into it.
Then you have the all day shows on the weekends - like the Cops and Rodders show in Hamiton on the 7th of August. This one gathered about 150 or so vehicles from around one hour drive surrounding the city. Beautiful day in the park, lot of wonderful cars to see, and great distractions, such as dyno competitions and who can forget food trucks! Most of these are set up to benefit a charity, Law Enforcement Torch Run being the one in Hamilton.
On a side note here, Torch Run benefits my favorite charity, The Special Olympics. Special Olympics is the world's largest sports organization for children and adults with intellectual disabilities, providing year-round training and competitions to more than 4.5 million athletes in 170 countries. Please check them out at www.specialolympics.ca
And then you have the BIG ONES. These are 2-3 day events that attract cars by the hundreds. They have shows, competitions, celebrity appearances, vendors and food among the cars.And these shows do benefit charities in the location they are held. Advantage of these shows is, that if it rains one day, next day might have much more agreeable weather.
This year I was able to participate in Fleetwood Country Cruize-In in London, On.; Wheels On The Bay in Trenton, On; and I am looking forward to Mopar Fest coming up August 20-21 in New Hamburg On. If you happen to be stopping by at Mopar Fest, come and say hi - we will have a booth in the show.
When you go visit these shows, do bring your camera! Your cell phone will do, but I want you take hundred or so pictures! That is the only negative thing I can say about the cell phone camera, is the memory. Why clutter memory on your phone with pictures, bring camera and couple of memory card and you are good to go! Not only should you take pictures of cars, but from the interesting details. Hood ornaments, hubcaps, engines, interiors and so on. Drop to your knees, check the belt line (where windows meet the body of the car). 1955 Chevrolet Bel Air, almost any Cadillac. Look at the lines of any car built in the Art Deco-era, (1920's to 1940's) and you will see something that will stir your soul.
Find the car that will stir your soul, the one that speaks to you, take lots of pictures, and don't forget to take pictures of the small details. Write down the make, model and the year of the car. When you get home, Google it! Read the history of it, was it popular, advanced or was it ahead of its time.
Oh, and don't forget to dream how it would feel driving this car..
If you would like to see some truly amazing rolling works of art (yes, they are cars), go check any of the Concours d'Elegance shows. Cobble Beach Concours d'Elegance show on its website http://www.cobblebeachconcours.com/ defines it as:
Derived from the French term meaning a competition of elegance, the Concours d'Elegance has a history story dating back to 17th Century French society. An event that began with horse-drawn carriages being paraded through the parks of Paris, France has evolved into a display of antique and classic for both competition and celebration.
These cars are the Grand Dames, that do deserve white glove treatment! As a flawless examples of vehicles produced and/or surviving in very limited numbers, they are rarest of the rare. Cobble Beach Concours d'Elegance is held in Kemble, Ontario at Cobble Beach golf course on September 18 2016. If you even think you might like cars, this is a show to see.
As a final words from photographer's perspective, I must confess I have love/hate relationship with all car shows. I love them, because I love cars, it is like being a kid in a candy store. So much to look at all in one place! It is just wonderful, I could spend days drooling over all the cars. ( yes I have been known to drool). And I hate the shows, because there is no worst place to shoot a car than in a car show. There are people in my shots!!! I really can't tell them to move, that would be rude! As a photographer, I don't have any special advantages. All the cars have been detailed for the show, so I can see reflections form other cars, and other things that are not suppose to be there. People look at me strangely, when I am standing on a park bench, on my knees or lying on the ground taking a picture (I have not been stepped on yet!). When you are passionate about something, as I am about my photography, this is what happens. It is just myself and the subject - only thing that matters to me is to bring out the best image possible. When someone looks at that image, I want them to feel what I felt, see what I saw and appreciate the beauty of the subject